Automate your conversations on whatsapp
Using the WhatsApp Business API, engage and connect with billions of visitors on WhatsApp! Increase Conversions, Revenue, And Sales Using Favorite Messaging Channel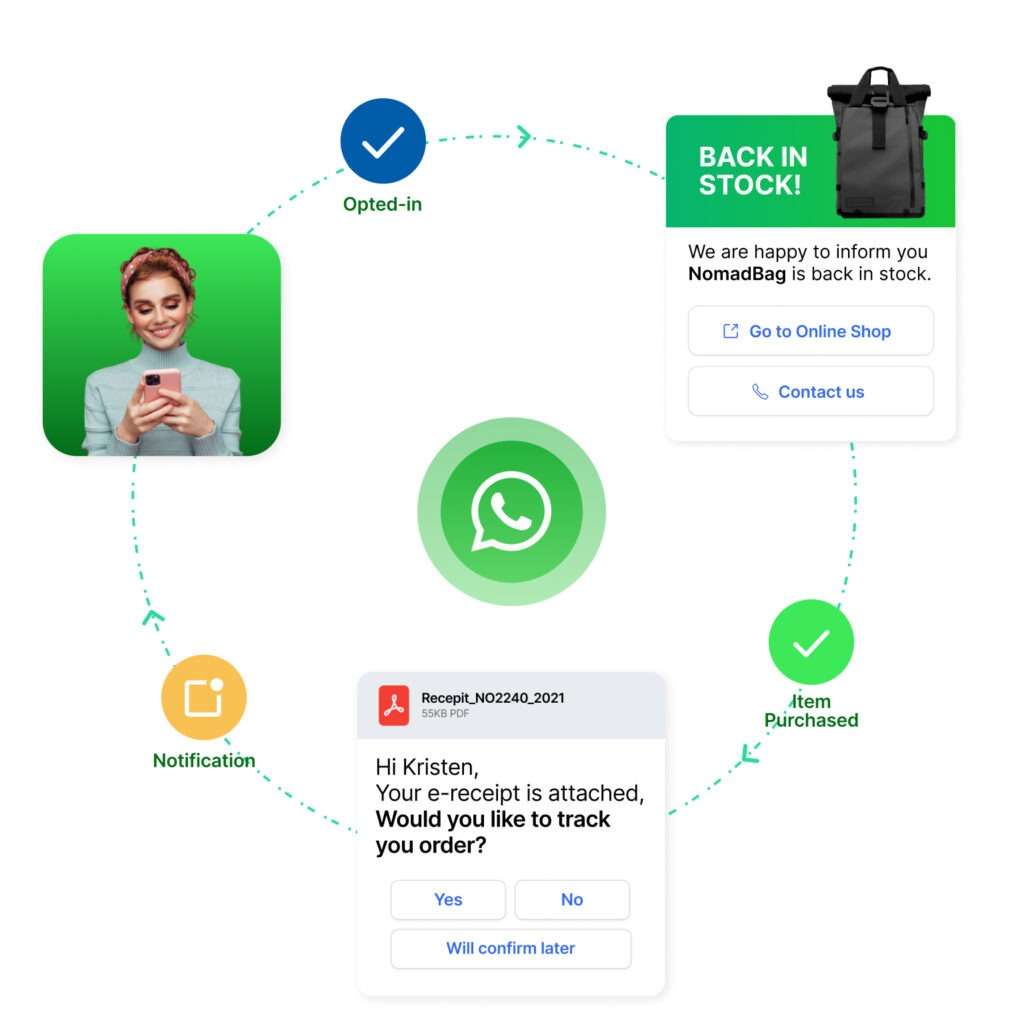 Transform your business with
WhatsApp Business Automation
Send Personalized Notifications
Notify your customers about delivery updates, booking reminders, invoices, order confirmations, and other important information using a WhatsApp chatbot.
Enhance customer relationships with personalized messaging.
80% higher open rate than SMS/Push Notifications.
Cost-effective with high engagement.
Enhance customer Experience
Provide customer support teams with the tools to respond to customer inquiries instantly and troubleshoot more efficiently using multimedia sharing. Get closer to your customers with WhatsApp.
24 / 7 availability to respond at any time, even after business hours.
Multi-Lingual Support. Understand your diverse customers in their native languages.
AI-powered Sentiment Analysis to escalate tricky clients to live agents.
Automated answers to FAQs to solve general questions.
With an interactive list and reply buttons for selecting preferred options, your WhatsApp now offers a seamless user experience to your customers.
By choosing an option from a menu-type list view instead of navigating a numbered menu, customers now have an experience that is 3x faster.
The reply button lets customers respond faster rather than having to type back complete answers from a list of options
Launch Smart Surveys & Interactive Promotions
Conducting conversational surveys will enable you to optimize your funnel and enhance your offerings.
More than 95% response rates
Rich Media-based surveys
From ads to automated Whatsapp Conversations
WhatsApp is already being used by businesses around the world to chat with customers. With ads that click through to WhatsApp, it will be even easier to begin conversations.
Facebook ads that click to WhatsApp include a button that opens a WhatsApp conversation. A prepopulated, customizable message will open when the customer clicks the call-to-action button and invites them to initiate communication.
Integrations to power up your campaigns
Delivering
Usecase

with Whatsapp Automation
Business opportunity with
WhatsApp Automation
An intelligent chatbot that responds to your customers 24×7 help you achieve 90% higher Customer Satisfaction Ratings and better ROI
Companies
using Whatsapp Business
Start your

Whatsapp Automation

journey today!
Start 10 days free trial. No Credit Card Required